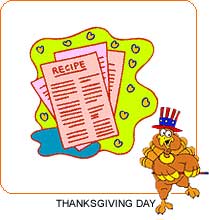 Thanksgiving
is all about sharing, merry-making and feasting. Families get together for their customary 'thanksgiving dinner'. The festivity will be incomplete without making the customary 'Turkey' for dinner. Delight your near and dear ones with these mouth watering recipes. Right from main course to desserts, we have it all.
Pineapple Cheese Salad
Preparation Time: 20 minutes
Ingredients:
2 cans tinned pineapple chunks, save the juice
1 - 2 cups small marshmallows (optional)
250 gms cheese (paneer)
l egg
2 1/2 tbsp. cornstarch (mixed with 1/4 cup water)
l tbsp. sugar
Method of Preparation:
Put pineapple juice, cornstarch mixture, sugar in a bowl and blend. Add beaten eggs to form a smooth mixture. Cook on slow flame, stirring continuously until the mixture thickens. Let the mixture cool, then add pineapple chunks, small marshmallows and cheese. A tasty salad is ready to eat
Cranberry Chutney
Preparation Time: 25 minutes
Ingredients:
1 Packet (12 ounces) fresh cranberries
1/2 Cup balsamic vinegar
1/2 Cup sugar
1 Teaspoon nutmeg powder
1 Teaspoon cinnamon powder
1 Teaspoon pepper
1 Teaspoon cumin powder
Method of Preparation:
Cook cranberries, vinegar and sugar on high flame in a saucepan. Bring to a boil. Add nutmeg, cinnamon, cumin and pepper. Simmer and keep stirring until the mixture is of thick consistency.
Traditional Turkey Sandwich
Preparation Time: 10 minutes
Cooking Time: 10-20 minutes
Ingredients
1/2 cup cream cheese/mayonnaise
4 teaspoons brown mustard
1/2 cup dried cranberries
1/4 cup chopped walnuts, if desired
1/ tsp ground cinnamon
8 slices Whole Wheat Bread, toasted, if desired
4 leaves curly leaf lettuce
3/4 pound thinly sliced Turkey Breast
1 large apple, cored,cut in 8 rings
Method of Preparation
For Cheese Spread: In small bowl, mix together cream cheese, mustard, dried cranberries, walnuts and cinnamon.
For sandwiches: Spread each slice of bread with cream cheese spread. Top 4 slices with lettuce leaves, turkey and apple rings. Complete sandwich with remaining bread.
Turkey Pizza
Preparation Time: 10 minutes
Baking time : 20-30 minutes minutes
Ingredients
1 baked thin pizza crust (12 inches)
1-1/2 cups shredded Mozzarella cheese
1 can Diced Tomatoes with Basil, Garlic and Oregano
1 cup chopped leftover cooked turkey
1 can sliced black olives
1 cup parmesan cheese
Method of Preparation
1.Preheat oven to 450°F. Place crust on ungreased baking sheet. Sprinkle with mozzarella cheese.
2.Top with tomatoes, turkey, artichokes, olives and Parmesan cheese.
3.Bake for 10 minutes, or until cheese is melted.
Roasted Turkey with Butter Glaze
Preparation time: 30-45 minutes
Roasting Time: 3-4 hours
Ingredients
1 14- to 16-pound turkey
1/2 cup softened butter
1/4 cup packed brown sugar
2 tablespoons snipped fresh marjoram or 2 teaspoons dried marjoram, crushed
1 teaspoon finely shredded lemon peel
1/4 cup bourbon
Salt to taste
2 teaspoon Pepper
Fresh herbs (optional)
Method of Preparation:
1.Combine butter, brown sugar, marjoram, and lemon peel in a small mixing bowl for glazing.
2. Put turkey, breast side up, on a rack in a shallow roasting pan. separate turkey skin from breast meat, with your hands, taking care not to tear the meat or skin. Spread half of the glaze over the breast meat under the skin.
3. Melt and cool remaining glaze. Stir in bourbon. Brush mixture over outside of turkey. Season turkey with salt and pepper. Pull neck skin to back and fasten with a short skewer. Tuck drumsticks under the band of skin that crosses the tail. If there isn't a band, tie drumsticks to tail. Twist wing tips under back.
4. Insert a meat thermometer in the center of an inside thigh muscle. The thermometer bulb should not touch bone. Cover turkey loosely with foil. Roast in a 325 degree F oven for 3-3/4 to 4-1/4 hours or until thermometer registers 180 degrees F. After 3 hours, cut the skin or string between drumsticks. For browning, remove foil in the last 30 minutes of roasting Turkey is done when drumsticks move very easily in their sockets and their thickest parts feel soft when pressed. Remove turkey from oven and cover loosely with foil. Let stand 15 to 20 minutes before carving. garnish platter with fresh herbs and kumquats.
Makes 12 to 15 servings.
Cranberry-Pecan Stuffing
Preparation Time: 25 minutes
Baking Time : 30 minutes
Ingredients
1/2 cup dried cranberries
1/2 cup chicken broth
1 cup chopped celery
1/2 cup chopped onion
1/2 cup chopped pecans or hazelnuts
1 teaspoon dried sage, crushed
1/2 teaspoon dried thyme, crushed
1/4 teaspoon pepper
1/4 cup margarine or butter
6 cups dry bread cubes
Method of Preparation:
1.Saute celery and onion in margarine or butter in a saucepan . Remove from heat. Add sage, thyme, and pepper. Place dry bread cubes in a mixing bowl. Add celery mixture, pecans, and cranberries. Add the 1/2 cup chicken broth, tossing to moisten.
2.Use to stuff one6 to 8-pound turkey. (Transfer any remaining stuffing to a casserole, adding the 1 to 2 tablespoons chicken broth, if desired, for additional moistness; cover and chill casserole until ready to bake. Bake the casserole, covered, in a 325 degree F oven during the last 30 to 45 minutes of turkey roasting until stuffing is heated through.) If stuffing is baked in the turkey, the internal temperature of the stuffing should reach 165 degrees F.
Makes 6 to 8 servings.
Ice Cream Pumpkin Pie
Preparation Time: 20-30 minutes
Ingredients:
1 packet prepared pie crust (available in market)
1 packet vanilla ice cream (softened)
1 can pumpkin
1 cup whipped cream
3/4 cup powdered sugar
2 teaspoons pumpkin pie spice
1/2 teaspoon salt
Method of Preparation:
1.Fill pie crust with ice cream; freeze until solid.
2.In a bowl, mix pumpkin, whipped cream, sugar, pumpkin pie spice and salt.
3.Spoon mixture over frozen layer of ice cream in crust; freeze until solid. remove pie from freezer and place in refrigerator one hour before serving. Slice and serve with additional whipped cream, if desired.
Crab and Shrimp Stuffed Turkey
Ingredients
2 tbs of Butter of your choice
7 cups of Water
2 tbs of Salt
3 cups of Stovetop stuffing
4 cups of Crab meat
4 cups of small sized Shrimp
Method of Preparation:
1. Mix the shrimp, crab and the stuffing mix together.
2. Keep it in a bowl and place it in the refrigerator.
3. Put the turkey in the pan. Put the water, salt and butter in the pan with the turkey.
4. Place in the oven for 2 and a half hours. Take it out and bast it with more water and the drippings.
5. Put back in the oven for another 2 hours.
6. Take back out and take your turkey baister and suck about 6 cups of drippings out and place in a bowl.
7. Take your turkey stuffing and very slowly mix with the turkey drippings until moistened to your liking.
8. Take and place your turkey stuffing in your turkey and finish cooking it until done.
Thanksgiving Day Recipe by Rebecca
Delicious Baked Turkey
Ingredients:
One un-stuffed Turkey
2 large bottles of kraft zesty Italion salad dressing
Method of Preparation:
Place turkey in roasting pan, pour salad dressing over the bird. Cover with foil and bake 12 - 14 hours at 180 - 200 degrees.
Uncover and turn heat up to 35 - 375 degrees and bake for an additional 1/2 hour or so, until golden brown.
Basting is optional, but not necessary. The bird will literally fall off the bone when you try to remove it from the pan, and literally melt in your mouth. Left overs make awesome sandwiches, enchiladas soups and spreads.
Do not stuff the turkey, and cut a small portion off the bird (before using dressing), or save giblets for gravy and or stuffing.
Tips:
My wife and I found out the hard way that Italion salad dressing does not make a good gravy or stuffing. If stuffing is desired just bake it in a separate dish. By the way, left over turkey is never a problem in our house since starting this .... guests usually take a giant plate home with them.
Thanksgiving Day Recipe by Ralph Barnhart
Vegetarian Recipes
We have some very interesting recipes for vegetarians. Enjoy thanksgiving day with these tasty dishes:
Pumpkin Soup
Preparation Time: 60 minutes
Ingredients:
1 1/2 cups soup stock
1/4 cup margarine
1 medium white onion
3 or 4 cups cooked pumpkin
1/2 teaspoon salt
1/2 teaspoon ground black pepper
1/2 teaspoon dried crushed red pepper (optional)
Method of Preparation:
Chop the onion coarsely. Melt the margarine in a large saucepan. Saute onion in melted margarine, add salt, pepper, and red pepper (optional). Cook until the onion is dark brown but not burned, on low to medium flame. Stir frequently and keep covered.
Add the cooked pumpkin and stir in the vegetable stock. Bring to a boil, reduce heat, and simmer for at least 45 minutes, covered, on low to medium flame.
Vegan Gravy
Preparation Time: 30 minutes
Ingredients:
1/2 cup vegetable oil
3-6 cloves of garlic, minces very well
2-3 slices of chopped onion
1/2 cup white flour (maida)
4 teaspoons nutritional yeast
4 tablespoons soya sauce
2 cups water
1/4 teaspoon ground black pepper
1/2 teaspoon salt
5 or 6 white mushrooms, sliced
extra flour or cornstarch (optional)
Method of Preparation:
Pour vegetable oil into a small saucepan. Saute garlic and onion in it for about two minutes on medium flame.
Add flour, yeast, and soya sauce to make a paste. Add water gradually, stirring constantly. Bring the gravy to a boil on medium to medium-high heat, stirring constantly -- the gravy has to boil for it to thicken. Add pepper. Stir in the sliced mushrooms, if desired. Add salt,
If the gravy is too thin for your taste, add one or two tablespoons of flour or small amounts of cornstarch to thicken it.
Vegan Pumpkin Pie
Preparation Time:30 minutes
Baking time :60 minutes
Ingredients:
350 gms firm and drained tofu (Low calorie paneer)
1 cup of cooked or canned pumpkin
1 to 1 1/4 cups brown or golden sugar
4 teaspoons blended "pumpkin pie spice"
OR: 1 teaspoon cinnamon powder
1/2 teaspoon ground dry ginger
1/2 teaspoon ground cloves
1 teaspoons nutmeg powder
Salt to taste
1 pie crust
Method of Preparation:
Heat oven to 375 degrees F. Blend tofu in a food processor or with a blender until smooth and cream-like. Add the cooked pumpkin and blend some more. The result should be a light orange-colored paste with no lumps of tofu.
Put the paste into a large mixing bowl and add the sugar, salt, and spices. Mix well and spoon it into the pie crust; decorate with cheerful shapes of leftover crust, if desired. Bake 30 to 40 minutes or until the crusts are dark brown .
Serve warm or chilled, plain or topped with whipped cream or ice cream.
Source: http://www.thanksgiving-day.org/